Introduction
Founded in the late 1970s by martial artist and Taoist Yoga teacher Paulie Zink, Yin Yoga has it's foundations rooted in ancient Chinese practices, combining theories around physical function and range of movement with the Taoist concept of yin and yang chi (energy) circulation.
These energetic principles are reflected within us and around us as well through the nature-focused philosophy of the Five Elements, the Wuxing. A conceptual scheme in Traditional Chinese Medicine, it is used to explain many things within the macrocosm of our universe and the dimensions of life, from cosmic events to interactions within our own nervous system; releasing, energizing, expanding, nourishing or transforming.
A perfectly-tailored yin yoga sequence of long-held poses enhances us physically and energetically, bringing release through these interactions in the body, accessing ease of movement as well as balanced emotions and reactions. We embody these reactions in our meridian and organ systems and through the tissues and joints of our body, we can reflect on the energies within our body, and aspects of the elements which show in our experiences as part of nature's cycles.
This training will encourage you to not only explore the beauty of a physical practice and anatomical impacts of Yin Yoga, but the traditions and roots that its founders followed. It aims to develop your language around the Five Elements of Traditional Chinese Medicine (TCM), and improve your ability to sequence meaningful classes around them using the principles of the ancient philosophy, meridian theory, and emotional connections.
The Wuxing - The Five Elements, or Phases - is made up of Fire, Wood, Water, Metal and Earth, each complimenting and interacting, supporting and reacting to one another in negative and positive ways. This scheme is at the heart of Traditional Chinese Medicine (TCM), and living in harmony with nature is at the heart of Taoism - a connection and harmony which we all truly need to nurture. The Five Elements are used to facilitate a deeper and more honest understanding of our human connectedness with nature, and the root of our existence.
Taking these principles into a Yin Yoga practice can allow us to not only bring harmony to our physical and energetic bodies, but to our relationship to and reactions within the world around us. Each element and meridian line connects with an organ and an emotion, so we can use theories from TCM to bring balance into our systems, embrace emotional shifts, and revitalize our energy. Yin Yoga is at the core of this healing, allowing us to create space and movement into deep layers of our body, mobilising tissues and fascia, allowing deeper breath and better movement, and steady reactions through our nervous system.
Learning to embody what we sense and feel in our bodies allows us to use Yin Yoga poses effectively, rather than striving to achieve a 'perfect pose'. Everyone's body has different ranges of motion, different needs, different joint and bone shapes, so in order to be effective every yin yoga pose must be adapted and modified to suit every individual in the room, tuning in to their own uniquely beautiful physical and energetic structures.
Investigating work from Yin Yoga founders like Paulie Zink, Paul Grilley and Sarah Powers, we will learn to understand the unique capabilities of individual bodies, and dive into using props and modifications of poses. The importance of using poses in different ways to access the body - rather than forcing the body into a pose - is integral to an effective Yin Yoga practice.
Combining anatomy, yoga practice, meridian theory, the principles of Yin Yoga and more, we'll use the intelligence in these pathways to gain deeper insight into our own bodies, create classes to guide and harmonize energies, tailor sequences to individual perfect alignments, and promote overall well-being, ultimately optimizing a flow of Chi.
This course counts as continuous education hours with the Yoga Alliance, and you will receive a certification signed by lead teacher Miz Deshannon. You will be required to submit your 200-hour training certificate on application.
A breakdown of the philosophies

Study each of the Five Elements in detail

Physiology and embodiment

Movements of Chi (energy) 

Meridian lines - what are they?

Organs, emotions, body parts

Key acupressure points

Poses and modifications

Use of props and their importance

The language of guiding within the elements

How to implement aspects into teaching 

If you are a yoga teacher this course counts as Continuous Education hours with the Yoga Alliance and you will receive a certification signed by your teacher Miz Deshannon (YACEP & E-RYT500)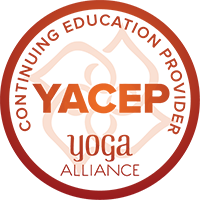 This training takes place over 2 intensive weekends. The schedule below is just a sample, each day may slightly vary.
Example day

11.30 - meditation and movement practice
12.30 - practicum
15.00 - lunch and socialize
16.00 - practicum
18.00 - integration
18.30 - movement practice
19:30 - recap / close
Day 1 - Exploring The Five Elements: Wuxing
The Daoist view of life
Yin & Yang Theory
Interactions and relationships
Elements, meridians, organs
Day 2 - Meridian Theory and Physiology
Chi (vital energy) circulation
12 major meridian pairs
Emotions and physical functions
Fascia and connective tissues
Day 3 - Posture & Poses
Symptoms of unbalance, and harmonizing
Upper & lower body anatomy and poses
Functional alignment and ROM
Tailoring adjustments and modifications
Day 4 - Embodiment and Practice
Targeting and sequencing for well-being
Supportive and nurturing aspects
Balancing Yin & Yang energies
Embodiment and integration
Miz is mainly inspired by dance and martial arts, and nature - our unity and connection with it. She trained as a dancer but suffered a spinal injury at 21, and spent years exploring different ways of moving for both rehabilitation and for fun. Yoga is an adventure, leaning very much to the third Niyama; Tapas - finding passion and courage and desire, not solely through high-energy movement, but through focus and determination, even in stillness.
She is registered as an E-RYT200, and has 500-hours of training in Yin Yoga (x2), Ashtanga-Vinyasa, Restorative & Somatics, Trauma Informed Yoga and certificates from Neural Flossing to Taoist Flow. Her classes are about connection, within and from the practitioner, embracing flow and the natural world, allowing understanding of movement deeper within the body and energetic connections.
Miz studies Traditional Chinese Medicine with Tiffany Cruikshank, and has dived into martial arts and eastern philosophies for over 20-years.
The training takes place in our studio at the heart of Copenhagen. On the old historical street Badstuestræde right next to the main shopping street Strøget you will find our oasis in the basement of an old Copenhagen-building. The main train station or city hub Nørreport Station is only 5 minutes walk away. The closest metro station is Gammel Strand, 2 min walking distance from the studio.
The studio is spacious with changing rooms, lounge area and a practice room -Shala- fitting up to 30 mats (although we only allow 20). You can read more about our guidelines and facilities here.