STEP INTO YOUR POWER
nested by the mountains & guided by the elements
Nested by the Andalusian mountains, guided by the ever flowing clouds, carried by the untouchable air, held by the solid earth and experiencing the spaciousness and vastness of it all - we'll be utilizing the power of raw nature to step into the power within. 
Guided by the five elements - Earth, Water, Air, Fire & Ether -  you'll explore different aspects of yourself. The Elemental approach allows us to explore the wisdom of Nature while exploring our inner climate and restoring ourselves to natural balance. By harmonizing the 5 Elements and yin/yang energy within us, we can find a natural rhythm that aligns with Nature's cycles. We won't be necessarily looking for anything, changing anything, but rather tapping into what's already within. Your individual power is always there - lying in the understanding of one's true authentic self and in the interplay of strength and softness at the same time. 
You can therefore expect heated practices, exploration of physical and mental edges, but the power of gentleness too. This retreat is not for complete beginners as we expect you to have a bit of experience with vinyasa or the physical practice of yoga. We'll be mostly practicing yoga movements, meditation, breathwork and sound baths in a spacious Spanish valley, but you can  look forward to loads of new pathways and practices too. Our workshops and ceremonies will help you to let go of what is no longer needed to create space where you can blossom into your fullest, deepest and wi(l)dest potential. 
Importantly, this is a special event that we're curating for an intimate setting of 10 people only. 
Let's relax and retreat into ourselves whilst uncovering that strength within, shall we? 
JUN 3-9 2023
PRICE RANGE
9.200 - 9.700 DKK
Price list at the bottom of the page
DAY EXAMPLE
---
Day guided by the fire element - touch up on your passions, creativity & drive 
7:30-9:15 Meditation and vinyasa: connect to your core, twist it out and find your expression of freedom
9:30-10:30 Breakfast
10.30-11.30 Break
11:30-13:15 Workshop / activity (eg. core values, journaling, breath of fire, day trip)
13:30-14:30 Lunch
14:30-19:00 Time for you to relax, take a dip and explore
19:00-20:00 Dinner
20:30-22:00 Kirtan, Soundbath, Trataka (candle gazing) or star gazing meditation, yin yoga or other suitable practices complimentary to the element.
ABOUT THE MILL SPACE
---
The Mill Space is an intimate venue based in a unique watermill located in the spectacular UNESCO registered Cabo de Gata National Park, Almeria, Spain. 
A visit to the mill is like stepping back in time. Walking up the palm fringed cobbled driveway gives you the feel of a bygone era. The Mill feels homely and hobbit-like with quirky al fresco dining areas, outstanding views, a stylish swimming pool and the occasional bray of a donkey. 
The ancient 500 year old watermill has been lovingly restored in keeping with its original Moorish design. The extraordinary building is complemented with rounded walls and wooden beams, traditional cane ceilings, a cave room, studded doors and intricate mosaics based on those found in the Alhambra region of Spain. The mill has been tastefully renovated, using many ecological materials. It features antique windows, doors and an original grain hopper. 
​A wonderful feature of the Mill Space is the circle. Back in the days the circle was the place where the milling process took place, but now it is now being used as a reinvented sacred space, where we're going to enjoy our practices - moving with the elements, flowing with nature, uncovering the internal wisdom. The circle holds a special energy that is unlike anything else.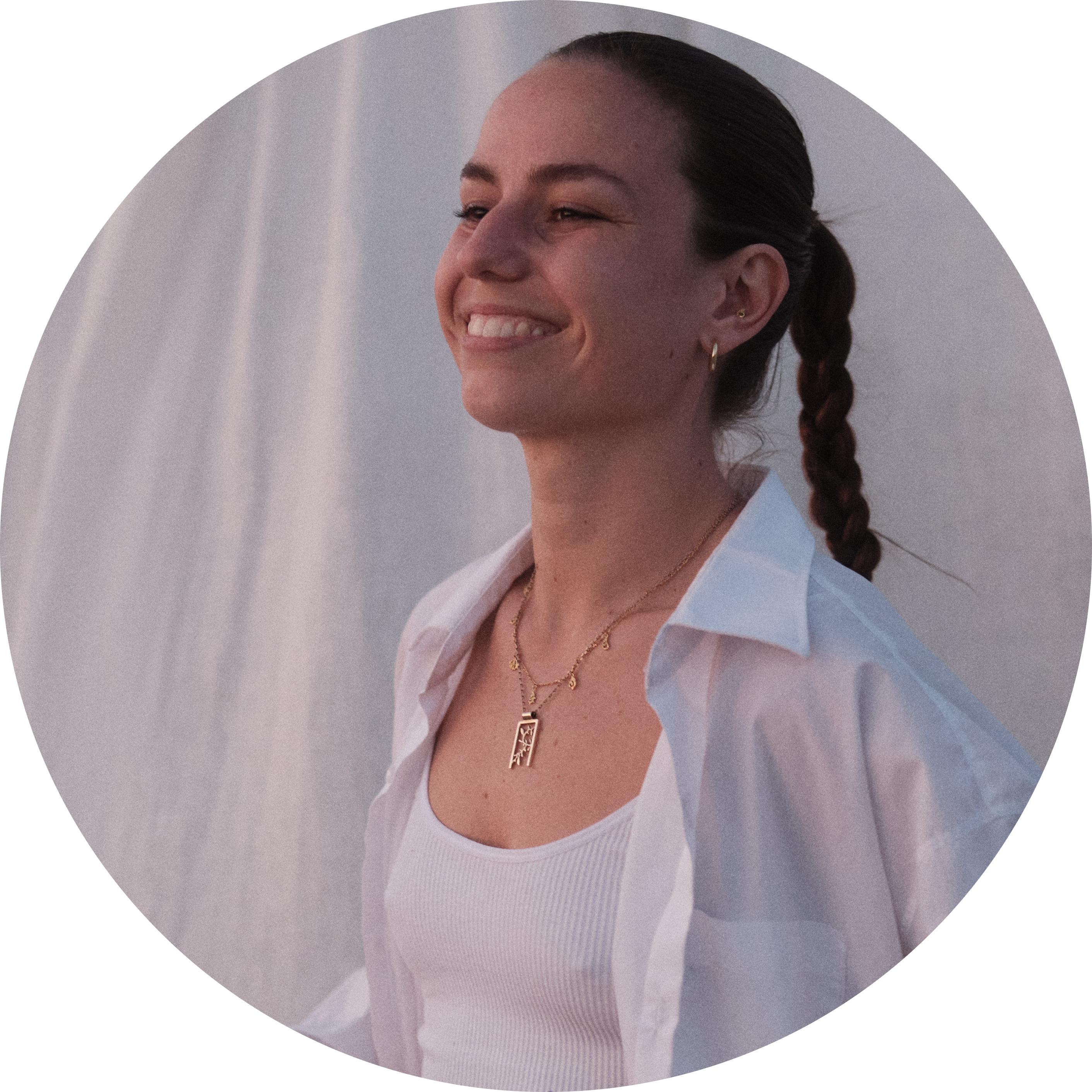 Cam (@cam.origin) is a soulful teacher with a deep love for everything involving adventure, creativity, nature & food. At the moment unfolding creativity through the running & creatings of KAÍLO. When guiding classes she always encourages variations and modifications well-knowing we all have different bodies, needs and days.
With a particular devotion to slow down our never ending brain waves, you can expect to be guided with emotional focus, physical awareness and often included resonance to enter a meditative world through internal and external awareness. Always teaching with a light-hearted push towards the perfect fusion of yin & yang.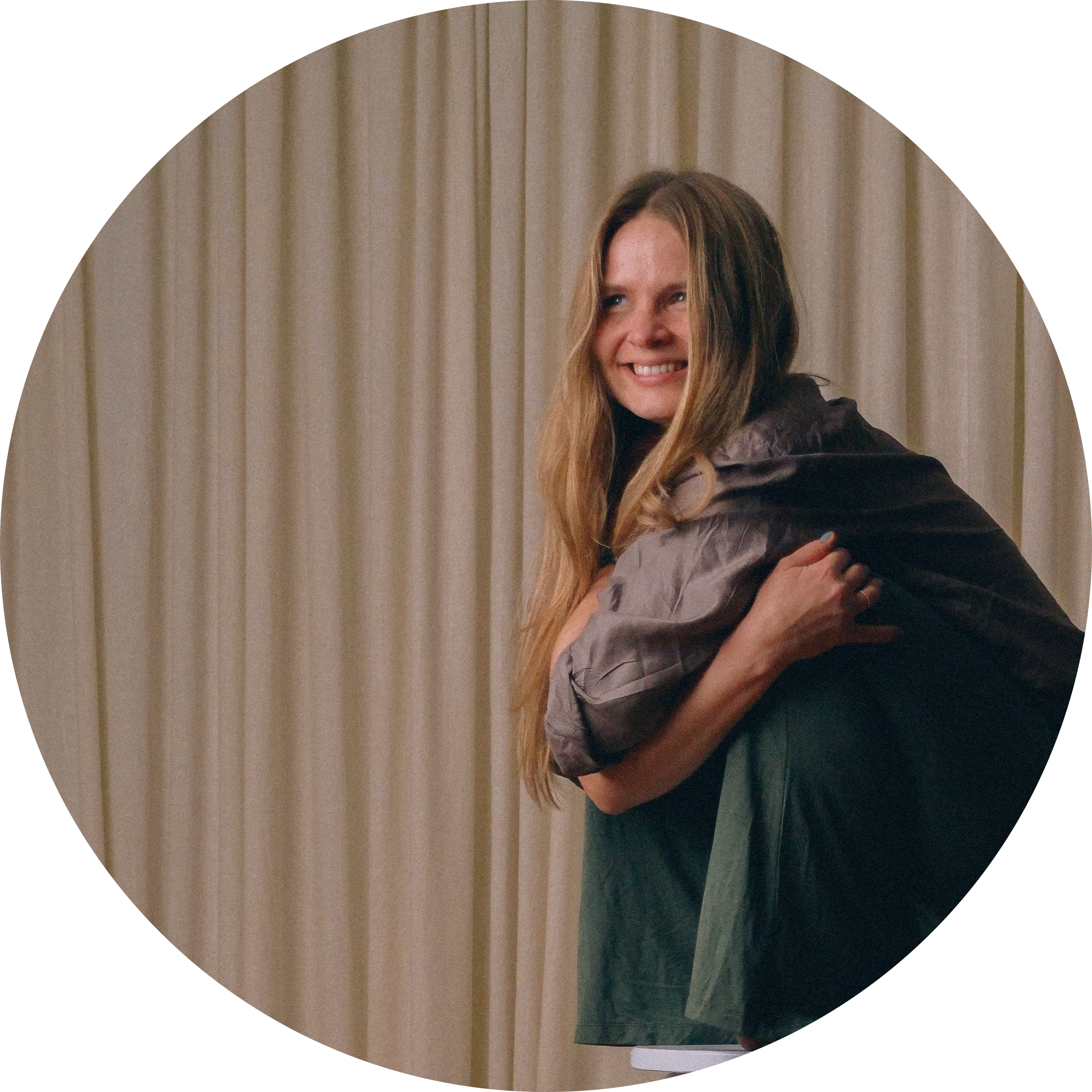 Dom (@koprdik) is a passionate yoga teacher with a focus in Vinyasa Flow. She enjoys teaching the mix of athleticism, spirituality and deep stillness - all inspired by music, craziness of life and modern science. Her top priority is sharing from a place of realness and authenticity, providing a non-judgemental space for everyone to be their truest selves and shed the layers of who they might think they need to be.
Forever interested in her student's stories, quirkiness and human connection, rather than perfection of any kind. You might hear her say cringe jokes, play Britney Spears and dance strangely, but she will do her absolute best to guide you through your magical yoga path.
TRANSPORTATION
Mill Space is located 50 minutes drive from Almeria airport. Alicante airport is about 2.5 hours from the Mill or Malaga airport around 3 hours. Airport transfers (meet and greet) from the airport can be arranged by Mill Space (minimum four people, prices starting at €20 pp one way from the Almeria airport). Traveling as a group together is encouraged to keep the cost down. There are lots of taxis at the airport and a hub of car hire options. You can get a bus from Almeria town centre and then a taxi from Carboneras - our local town.
THE FOOD
The food is provided by The Mill. You can expect wholesome and nutritious meals, sourced organic and locally produced, as far as possible. The Mill produce their own olive oil and carob powder from their trees, which brings a little extra culinary pleasure to the table! The food is based on vegetarian recipes with a nice mix of Mediterranean and Moroccan influences running through the menus and even some Ayurvedic cuisine (the 'sister science' of yoga) making the food simply heart-warming, nourishing and balancing to the system. The menu can be adjusted to the preference of vegans, people with allergies and / or intolerances. Please send us an e-mail at info@kailoyoga.dk for special preferences.
WHAT IS INCLUDED IN THE PRICE
full accommodation (one bed linen change)
3 meals a day, pack lunch for day trips, fruits, tea, coffee and mineral water
full yoga program incl. minimum 7 yoga sessions
linen, bedsheets & towels
personal yoga equipment (mat, bolster, blocks, blanket, eye bag and strap)
use of The Mill's facilities: pool, wild swimming, WiFi, relaxing shaded areas, hammocks, board games/boules etc.
WHAT IS NOT INCLUDED IN THE PRICE
flights and transfers

travel insurance

extra snacks and drinks from tuck shop or bar
day trips (optional)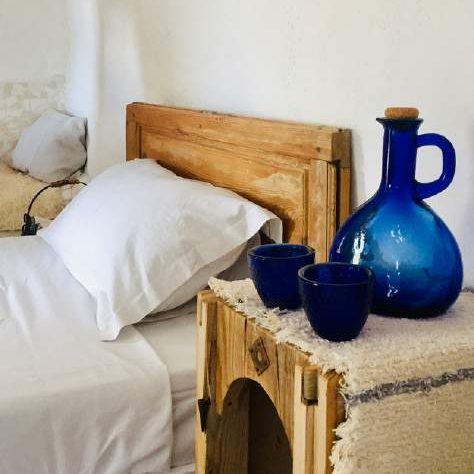 This cute mini house is full of charm and is 'A Room with a View' looking out to the mountains and overlooking the garden and pool. It has its own en suite bathroom with a walk in shower with a floor made from the flat stones from the river bed. A smaller space, more rustically designed with twin beds and a decking area outside where you can sit and have a drink. There is a little marble sink outside and an open air shower that can also be used; quite a special experience on hot nights or full moons.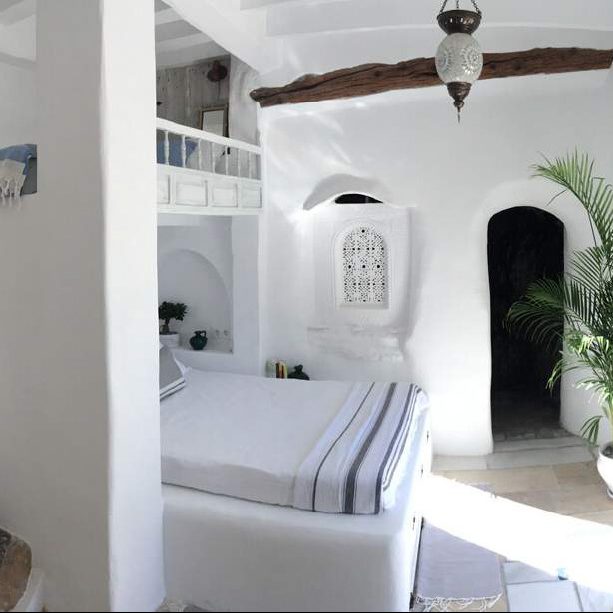 One of the original millstones has been delightfully used as a the base for the wet room and a second creates a partition in the wall. The walk in cave-like wardrobe is part of the mountain and is another fun feature. There is a double bed (perfect for good friends or a couple) and a single cabin bed with cleverly designed stone steps leading up to it, adding even more character to the studio. With your own facilities, private entrance and outside seating area, this is a favoured little place to stay.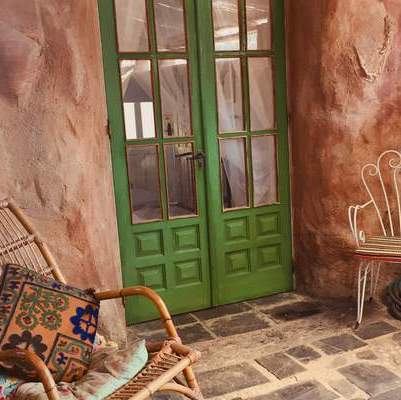 A versatile triple room is great for friends sharing or a family stay. The room features a cobalt blue tiled floor, a decorative stained glass window and a colonial style ceiling fan. The French doors open out onto the vibrant Moroccan back terrace, where you can pass the time on warm evenings with family or friends.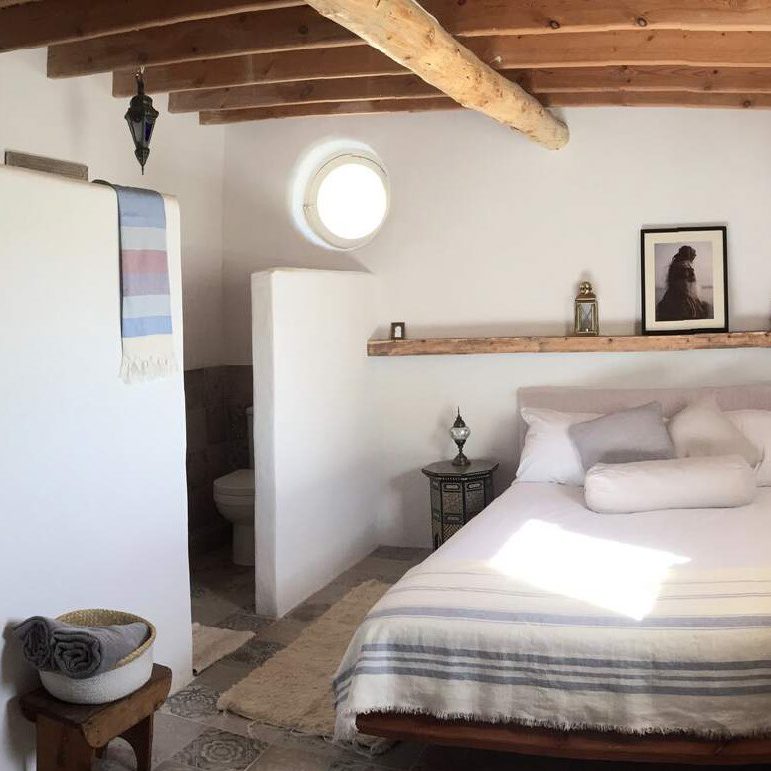 A double bedroom with a king-size bed and en suite bathroom. Perfect for a couple or two friends who doesn't mind sharing. This space has an elegant, homely feel, with beautiful wooden details, Moorish inspired interior, Spanish tiled floor and a traditional styled cane and beam ceiling. With a view out to the garden and beyond to the mountains, this room makes for a comfortable and delightful stay.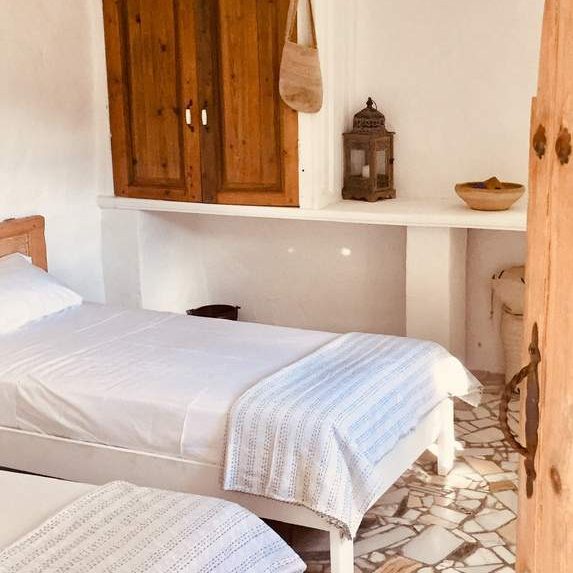 This adorable twin room is perfect for retreats or a short stay. Originally the former animal stable, it has been recreated into a cosy room in which to stay. It has been carefully thought out with a beautifully intricate mosaic floor, upcycled woodwork and a simple Moroccan hand basin. With a shared bathroom just a short step from the room, this is ideal for budget conscious travellers, yet still has something pleasing to the eye.
'THE MOSAIC ROOM'
SOLD OUT
2 single beds
Further information will be handed out via. email when signing up.
Cancellation policy:
More than 60 days prior: full refund (deposit of DKK 3.000 non-refundable).
30 - 59 days prior: 50% of payment incl. deposit is refundable.
30 days prior: no refund is provided, but you are free to give or sell the ticket to someone else.