Enter, Meditation.
Yes, the buzz about meditation is true. Although it's a trending topic these days, meditation is an ancient practice only now becoming widely popular. It has been proven to relieve stress, reduce blood pressure, enhance our concentration, make us feel calm, joyful, and uplifted. But these are just the byproducts of true meditation; there is much more to meditation than meets the eye.
In this course you will not only learn to meditate, but you will also receive weekly lectures to deepen your understanding of the science and history of meditation, recorded meditations to listen to at home, and a workbook with journal prompts, tips and exercises. 
Life is sometimes difficult, stressful, and challenging. We can't control what happens, but we do have the potential to change the way we relate to those things. Through meditation, we can begin to build awareness and presence – finding spaces in between thoughts, feelings, and the activity of daily life where we can drop into being. From this place of awareness we can work to better understand ourselves, connect to ourselves and others, build compassion, foster change in our lives, and find a deeper sense of contentment. But that doesn't mean we'll feel clear, calm, and kind as soon as we start or finish. Since the mind is always changing, our experience might feel different each time we meditate.
We meditate not to be good at meditation, but to be good at life.
Together we will explore the science of meditation, stress and rest, Self-Compassion practices, body-based mindfulness, meditation for working with difficult times, and how to cultivate a meditation practice of your own. No prior experience in meditation is necessary, all levels are welcome. 
This course is not about perfecting a meditation practice or learning to sit perfectly still – it's about exploring what meditation could look like in your life, and how to make these practices sustainable and supportive.
Join Bella as we dive deep into these practices together – no prior experience necessary.
• 4 x 2-hour workshops consisting of a meditation practice, and science, theory and history lectures, to gain a deeper understanding, with a different theme each week
• 4 x recorded meditations to listen to at home in between sessions
• A 20 page workbook including journal prompts, short exercises, and tips to keep you motivated each week
• One-on-one support in creating a sustainable mediation practice tailored to suit your lifestyle
The weekly outline below may slightly vary. Each day you can expect pleasant arrival/check-in, gentle movement, meditation practices, thorough guidance, science based lectures and time for questions.
WEEK 1 - introduction to meditation
• Why meditate, the Stress Response Cycle and the Science of Stress, Radical Rest
• Breath-based Meditation
• Intention Setting
• Yoga Nidra
• The Wandering Mind
WEEK 2 - compassion and the heart
• Self-Compassion – what and why? History and Science of Compassion
• Tender and Fierce Compassion-based Meditation
• Meditation for Tuning-in
• The Four Immeasurables
WEEK 3 - movement & the body
• Somatics and Embodiment – Science of the Body and Movement
• Body-based Exercises for Mindfulness and Presence
• Sensory Grounding Meditation
• 'Four Dimensions' Meditation
• The Koshas
WEEK 4 - trusting the home practice
• Beyond this course; Cultivating a Home Practice
• Intention Setting
• 'RAIN' Meditation for difficult moments
• Meditation for Daily Life – adapting it to the moment, finding the space in-between
Bella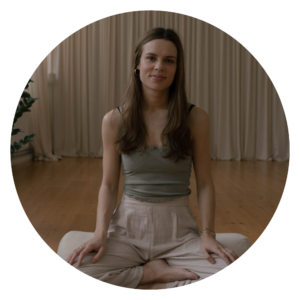 I first stumbled across yoga as a teenager and have since incorporated movement, meditation, and pranayama into my life as avenues for healing, release, and rest. Years later, I'm continually inspired by the many ways in which yoga can facilitate both individual and collective healing. My approach to sharing and teaching yoga is centered around exploring themes of connection, compassion, and contentment within yourself and with those around you. In class, you can expect fluid and explorative flows that emphasise free movement and expression, while cultivating a sense of connection, presence, strength, and inner peace. Warm and open in my approach, I teach through a trauma-informed lens, and invite everyone to come as they are - just as they are. I truly believe that if we begin with a gentle curiosity, we can all develop strength, flexibility, compassion and endurance throughout the whole self. When I'm not on the yoga mat you can find me FaceTiming my Dog who lives in Australia, baking caramel slice or trying a new art & craft.